Issue 52
May 2016

Stream-Enterer
This is our third issue in the Seven Genres of Tea series. There is no better way to celebrate the change in weather and the opening of the 2016 tea season than with some fresh, bright green leaves in a bowl, covered in steaming spring water. This month, we all awaken dormant energies, entering the stream of green tea and a love for spring!
Features

AN INTRODUCTION TO GREEN TEA
LOOKING INTO THE DRAGON'S WELL
VARIETALS OF KOREAN GREEN TEA

By Brother Anthony of Taizé

EMERALD DREAMS - THE MANY SHADES OF JAPANESE GREEN TEA
MATCHA - THE GOSSAMER TEA POWDER OF JAPAN

By Mary Lou Heiss

Regulars

TEA OF THE MONTH

"Stream-Enterer," Green Tea
Mingjian, Nantou, Taiwan

GONGFU EXPERIMENTS

The Flow of Wisdom

TEAWAYFARER

Amy Woodruff, USA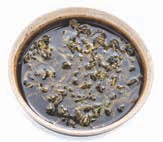 ---
LOVE IS CHANGING THE WORLD BOWL BY BOWL
© 2016 by Global Tea Hut
No part of this publication may be reproduced, stored in a retrieval system or transmitted in any form or by any means, electronic, mechanical, photocopying, recording, or otherwise, without prior written permission from the copyright owner.