Issue 57
October 2016

Elevation
Elevation is the only tea we send out every single year - it's that important to us! Last year, we began a new tradition of having "Tea Around the World," sharing all of your stories. This year, we thought we'd combine both traditions and share Elevation stories from the community around the world.
Features

THE MAKING OF ELEVATION

By Wu De

RED MEDICINE
By Qing Yu
ELEVATION STORIES PART I
SUN MOON POTS

By Petr Novak

ELEVATION STORIES PART II

Traditions

TEA OF THE MONTH

"Elevation," 2016 Old-Growth Red Tea
Sun Moon Lake, Taiwan

COOKING WITH TEA

Vegan Tea Ice Cream

CHAXI ARRANGEMENTS

An Elevation Arrangement

TEAWAYFARER

Raneta Kulakova, Russia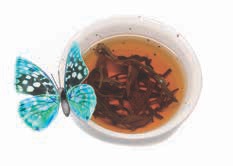 ---
LOVE IS CHANGING THE WORLD BOWL BY BOWL
© 2016 by Global Tea Hut
No part of this publication may be reproduced, stored in a retrieval system or transmitted in any form or by any means, electronic, mechanical, photocopying, recording, or otherwise, without prior written permission from the copyright owner.