Issue 61
February 2017

Vitality
In this bright red issue, we explore red tea from Yunnan, called "dian hong," in great depth, while raising bowls of one of our favorite Yunnanese reds ever made. Then, we will explore tea and meditation, and, for the first time ever, offer an in-depth guide to tea ceremony that will help you start or improve your tea practice.
Features

Introduction to Tea & Meditation

By Wu De

Tea & Meditation Self-Course

By Shen Su

Leaves in a Bowl Tea Ceremony Guide
The First Annual Global Tea Hut Zen & Tea Retreat

The accounts of many retreatants

Traditions

Tea of the Month

"Vitality," 2016 Dian Hong Red Tea
Big Snow Mt., Yunnan, China

Gongfu Teapot

Yixing Purple-Sand Clay

TeaWayfarer

Maxim Ulasevich, Russia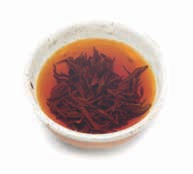 ---
Love is changing the world bowl by bowl
© 2017 by Global Tea Hut
All rights reserved. No part of this publication may be reproduced, stored in a retrieval system or transmitted in any form or by any means, electronic, mechanical, photocopying, recording, or otherwise, without prior written permission from the copyright owner.