Issue 70
November 2017

Spirit
This year, some fortuitous blessings allowed us to make one of the best shou teas we've ever had, so we saved some extra tea loose-leaf to send as a Tea of the Month. Of course, this is also the perfect opportunity to dive deeper into the history, production and lore of the genre of shou puerh!
Features

A Shou Puerh Journal

By Ho King Shing (何景成)

The Art of Fermentation

By Chen Jr-Tung (陳智同)

The Ways of Ripening Puerh

By Liao Yirong (廖義榮)

Annual Photography Contest Winners
Shou Puerh Culture in Hong Kong

By Chen Ganbang (陳淦邦)

Traditions

Tea of the Month

"Spirit," 2017 Old-Growth Shou Puerh
Mengku, Yunnan, China

Gongfu Teapot: The Importance of Experimentation

By Shen Su

Expansion Pack V

Five Amazing Shou Puerh Teas

Voices from the Hut

Tea Weddings

TeaWayfarer

Tatyana Leonova, Russia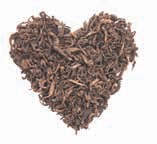 ---
Love is changing the world bowl by bowl
© 2017 by Global Tea Hut
All rights reserved. No part of this publication may be reproduced, stored in a retrieval system or transmitted in any form or by any means, electronic, mechanical, photocopying, recording, or otherwise, without prior written permission from the copyright owner.