Issue 71
December 2017

Ma Bao (馬堡)
We are excited to begin a new holiday tradition of sharing a finer tea by combining the tea and gift budgets. This year, we once again turn to the small town of Liu Bao, connecting Liu Bao, Malaysia and Taiwan to the whole world through this beautiful black tea for the holidays and to toast the New Year!
Features

Terroir of Liu Bao

By Peng Qing Zhong (彭慶中)

History of Liu Bao

By Peng Qing Zhong (彭慶中)

Processing of Liu Bao

By Peng Qing Zhong (彭慶中)

Traditions

Tea of the Month

"Ma Bao," 1990s Liu Bao Black Tea
Liu Bao, Guangxi, China

Gongfu Teapot: Fluency & Precision in the Pour

By Shen Su

TeaWayfarer

Yuliya Maslyn, Sweden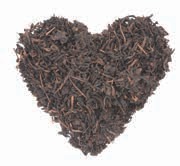 ---
Love is changing the world bowl by bowl
© 2017 by Global Tea Hut
All rights reserved. No part of this publication may be reproduced, stored in a retrieval system or transmitted in any form or by any means, electronic, mechanical, photocopying, recording, or otherwise, without prior written permission from the copyright owner.