Issue 73
February 2018

Samadhi
This month we return to Tea, Zen & Meditation, offering advice for incorporating tea into your meditation, and meditation into your tea practice. We'll also discuss our retreats we hosted this year. And we'll be drinking a deep and meditative tea together, to warm the soul and calm the spirit.
Features

Lost, Trained Found

By Wu De (無的)

Half-Day Tea & Meditation Retreat Guide

By Shen Su (聖素)

The Best Tea Session

By Wu De

Tea & Qigong Retreat

By Connor Goss

Tea & Qigong Retreat Discourses Offer
A Tea Retreat Wherever You Are

By Jing Ren (淨仁)

Second Annual Zen & Tea Retreat

By Katherine Aplin, Petr Novak, Keiko, Antonio Moreno, Simon Osten & Rivo Sarapik

Traditions

Tea of the Month

"Samadhi," late 1990s Shou Puerh
Yunnan, China

TeaWayfarer

Emily Foate, New Zealand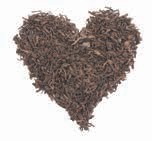 ---
Love is changing the world bowl by bowl
© 2018 by Global Tea Hut
All rights reserved. No part of this publication may be reproduced, stored in a retrieval system or transmitted in any form or by any means, electronic, mechanical, photocopying, recording, or otherwise, without prior written permission from the copyright owner.